Invisalign & Clear Aligners in Irving, TX
Appearance is not the only benefit of wearing Invisalign® for straighter teeth, since straighter teeth can also benefit one's oral health. In fact crooked teeth can trap food between them and lead to infection or bite issues. At Active Dental, we offer Invisalign® as a treatment for patients interested in discreetly straightening their teeth.
Invisalign® is a series of clear aligner trays that cover the teeth, similar to a retainer or mouth guard, but are much more discreet. At least every two weeks or so, the patient will switch to the next set in the series of Invisalign trays. With the custom aligners for each patient, Invisalign® will gradually push the teeth into the right position without causing significant amounts of pain.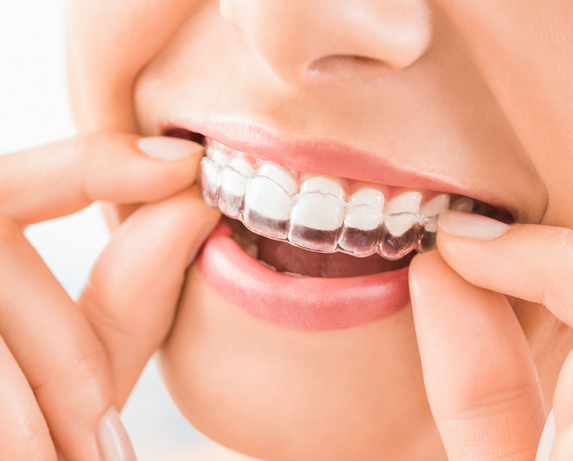 To begin, we will need to conduct a consultation and examination. This examination will involve reviewing the patient's medical history, current state of health, any pre-existing conditions or prescribed medications we need to know about and the position of the patient's teeth. We will then take a mold of the patient's teeth and measurements. With all of this information, we will send it to the lab to create the Invisalign® trays.
After creating the trays, we will then meet with the patient to ensure that they fit and that the patient understands all of the steps in the straightening process. It is important that the patient understand a few key factors about wearing Invisalign® on a regular basis.
Wearing the aligners for at least 22 hours per day
While the patient can remove Invisalign® trays when necessary, the patient will want to keep them in as much as possible. The longer the patient does not wear the trays for, the longer the entire process will take. Patients need to remove the aligner trays when eating and to brush the teeth.
Patients can also remove the aligner trays to play in a sports game, give a presentation, go on a date, or while taking a photo. It is important to at least rinse the mouth after eating to keep food from getting caught in the teeth.
Staying on schedule
Since we do not need to adjust Invisalign® aligners at our office as one might need to adjust braces, patients do not need to make as many checkup appointments. In fact, by customizing the aligner trays, we do not need to have the patient come in for regular orthodontic checkups.
The patient will be able to continue through each aligner tray and follow a schedule with no surprises. By following the schedule, the patient's teeth will continue to move into the proper position without pain.
Keep up regular oral hygiene
While wearing Invisalign®, patients will not have to brush and floss between brackets with difficulty. In fact, the patient will be able to brush and floss as normal by just removing the aligner trays. However, it is crucial that the patient brush after each meal to keep food from sticking between the teeth.
Food that is stuck in the teeth can also damage the aligners. It is important that patients do not wear the aligners while drinking soda or other beverages while wearing Invisalign® aligners. We recommend that patients only keep the aligners in when drinking water.
Customized for your teeth
We customize the Invisalign® aligners to fit the patient's teeth and then use programming technology to digitally map out the projected rate of movement for the patient. We will then build the rest of the clear aligners in the series. Each new set of aligners will be a bit closer to the correct position for straight teeth.
With a customized straightening treatment, patients do not need to worry about the aligners falling out or being loose. Since there is no one-size-fits-all treatment, we make sure that the trays are the right fit for each patient.
Discreet, efficient and easy to use
Invisalign® aligner trays are nearly invisible to the point that few people will notice them unless the individual mentions wearing them. Patients will not have to feel embarrassed by wearing traditional metal braces or a mess of wires in their mouth on a regular basis. Invisalign® allows for the patient to receive the straight smile they desire without the maintenance of going through braces treatment.
Patients will be able to feel confident in their smile during the straightening process. If you are interested in Invisalign® treatment, give us a call today and schedule an appointment. We will help you obtain the straight smile you have always wanted.
Irving's Best Invisalign Provider – Invisalign Provider Near Me – Affordable Clear Aligners in Irving, TX
The Proof is in Our Patients
374 5-star reviews in Irving, TX and counting…
This was our first visit to Active Dental and the overall experience was great. The wait times aren't long. They stay on top of communication and follow up on treatment plans. We went for routine dental cleaning and from hygienist, staff to dentist everyone was professional and helpful. Thanks Active Dental.
Never had a bad experience and the everyone there is so genuine and real. They talk to me and give me advise as if I was they're own loved one. Thanks so much for keeping my teeth healthy and clean!
Love love love this dentist! I avoided the dentist for years because of anxiety and these dentists and hygienists are the absolute best! They are so gentle and always super efficient.
I love this dental office!! My kids have been going here for about 10 years now & we love all the staff! They're so friendly, patient & understanding. The environment is welcoming & clean. They're also quick & efficient. We're always seen in a timely manner & treated with respect & care.
Dr Patel and his staff are wonderful! I have a lot of dental work to be done and dr Patel sat me down and together we were able to come up with a course of treatment that best fits my needs. He is very straightforward and I love that about him. All of his staff are very friendly and welcoming and I won't use another dentist!